Academic learning at Heartfield Kindergarten is a joyful, fun-filled experience. The theme-based curriculum opens opportunities for exploration and discovery throughout the school year.
Believing strongly that children learn best through their senses, Heartfield Kindergarten makes an effort to constantly engage and stimulate each child through their sight, smell, touch, hearing and taste. 
We offer a variety of quiet and energetic activities in an integrative approach to meet our children's holistic needs. Learning is a time to make choices, expand ideas, mix with others and explore various materials. Our teachers are at hand to engage with the children and facilitate interaction amongst peers.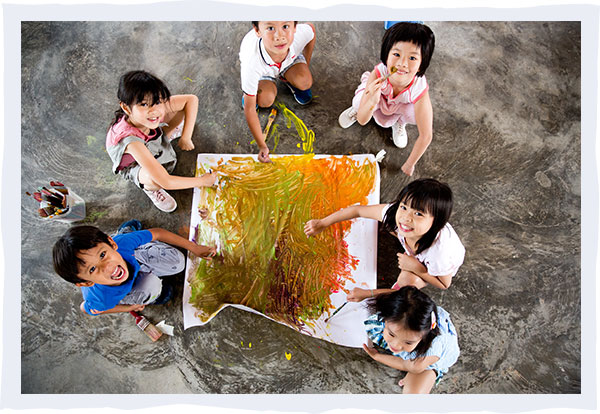 A day in Heartfield Kindergarten is filled with exciting exploration, discovery and learning. This is what your child's day will be like:
Arrival & Welcome
Your child will be welcomed by a class teacher at the front door of the school and his/her temperature will be taken to ensure the wellbeing of your child. School bags, water bottles and snack boxes will be taken out by your child and placed in designated areas. Then your child is ready to start the day with friends and teachers.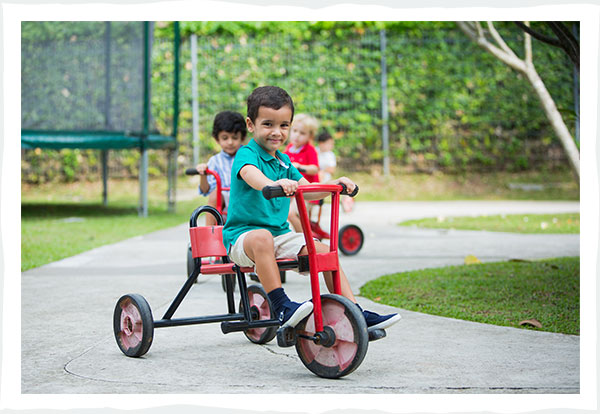 Outdoor Play & Exploration
We enjoy swings, slides, cycling around the cycling track or jumping on the trampolines. He/she could also be exploring the herb garden to see if there are any herbs to harvest or tend to, or going to the banana grove to see if the bananas are ripe. Learning to care for and appreciate the environment.
Discussion & Discovery
Teachers facilitate children's learning by using literature, Information and Communication Technology (ICT), questions and discussions to introduce thematic concepts.
The children then proceed to multisensory Discovery Stations where they develop language skills, mathematical concepts, aesthetic appreciation and scientific inquiry and processes.
Snack Time
We rehydrate and re-fuel while chatting with our teachers and friends. This is a wonderful time to build relationships!
Circle Time
Smaller group learning in English or Mandarin is a highlight. Children get to ask questions, share, dramatise and discuss the content they are exploring.
Goodbye & Dismissal
Our morning session ends with a review of the day's learning and a goodbye song.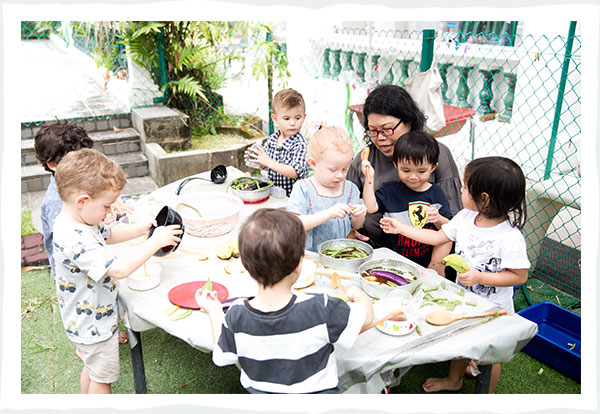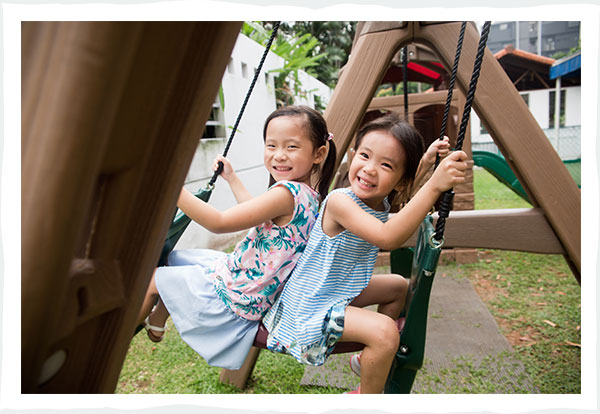 Lunch Bunch Program
Children who are 2.5 years and older can join the Lunch Program which is an extension of our day. They develop their self-help skills by eating their packed lunch together with their teachers and friends. After lunch and some quiet activity time, the Lunch Bunch special program starts. This includes Mandarin/English speech and drama, art/music or sports/games.
Stars Class
18 months –

2.5 years
Class 2
10:40am – 12:40pm
One hour extension program available for suitable students
Rockets Class
2.5 years – 4 years
Lunch Bunch Extension Program
12pm – 1:30pm
Astronauts & Astronaut – Captains
4 years – 6 years
Afternoon Enrichment & Extension
(Available to children 3 years and older)
Enhancing Academics Through Socio-Emotional Learning
Monday
Sports with Sportball SG
Sportball Multi-Sport programs introduce children to the fundamental concepts and skills behind eight popular ball sports.
Tuesday
Chinese Cultural Art
华族文化艺术课程包括: 书法练习和制作华族文化相关的艺术品。让孩子们亲身感受华族文化的博大精神。
Enjoy the beauty and richness of Chinese culture, art and poetry taught through calligraphy, traditional art and music.
Wednesday
Cooking Science
Cooking is an exciting way to reinforce the math, language and science that the children learn at school. It teaches children essential life-skills, social-skills and self-confidence.
Thursday
Mandarin with Zhang Lao Shi
华文演绎与表演能激 发孩子学习华文的兴趣  乐中学,玩中爱,学习华文并不难。
Learning Mandarin is not difficult when you learn it through speech & drama.
Friday
Swim with Coach Ian Cheung
Swimming is a vital life skill and is wonderful for brain development and self-confidence in children. Our swim classes are also a perfect opportunity to form close bond and social time with friends.
Copyright © 2020. Heartfield Kindergarten Pte Ltd.
All rights reserved. Personal Data Protection Act