Rahul's sharing (Tara's dad)
Heartfield for Tara has been her home away from home. Tara has enjoyed every moment of her time and in fact never wanted to leave.
The warmth of her Teachers and the strong bond from her friends has nurtured Tara to enjoy learning and develop herself into the young lady that she is today.
Heartfield has brought out the best in Tara, enabling her to articulate clearly and express freely. It has provided her with the reinforcements to venture in Primary one with grace and confidence, bundled with the enjoyment of learning which she carries along with her.
We are thankful to Sherlyn, Karen, Yvette & Chelsea and all the others who've made this journey at Heartfield an unforgettable one!
Regards,
Rahul Kaul
Tanya's sharing (Tara's mum)
The play based environment is unique at Heartfield and I drew comfort from the balanced experience within the teaching cohort and that all of you (teachers) and your kids have been through the local school system which assured me that my kids were in good hands. I would go one step further and say it's a growth mindset driven with the diverse environment designed for children of any background, Heartfield equipped Tara for a bigger school environment.
Specifically, for P1 prep, introduction of Math, English and MTL concepts, reading, writing practice and other non-academic but critical essentials like organisation, discipline, independence, team work, fostering friendships were reinforced. Finally, the communication and feedback process with the school worked well for me and my family and so tweaks were made along the way to support and take into consideration our requirements.
Marina's sharing (Beth and Luke's mum)
It wasn't a difficult search for a preschool for my two children Beth and Luke.
Beth joined Heartfield (then called Little Hands) when she was 2 years old ( I transferred her from another preschool after I noticed how much happier she was in Heartfield) and Luke when he was 18 months.
I wanted a preschool that had open spaces for outdoor play and messy play, loving teachers and a curriculum that was tailored to each child's individual needs. More importantly, I wanted the children to grow up with a caring heart and learn to make genuine friends from this young age.
Heartfield met these criterias.
My children never shed a tear from the first day of preschool as the teachers comfortably engaged them with the activities the moment they stepped into the school grounds (I didn't need to stay even for the first day to keep them company as it didn't seem like they needed me there!) They completed their preschool education in Heartfield till they had to leave for primary school.
Beth is now in Primary 5 and Luke in Primary 2. Heartfield had prepared them in a holistic way so that they could be ready for Primary school. My personal belief is that the education in preschool has to cover several aspects of their development to build a foundation for the children to be able to cope with primary school. Heartfield was perfect for that with a well-rounded emphasis on sports, life skills, social abilities and academics.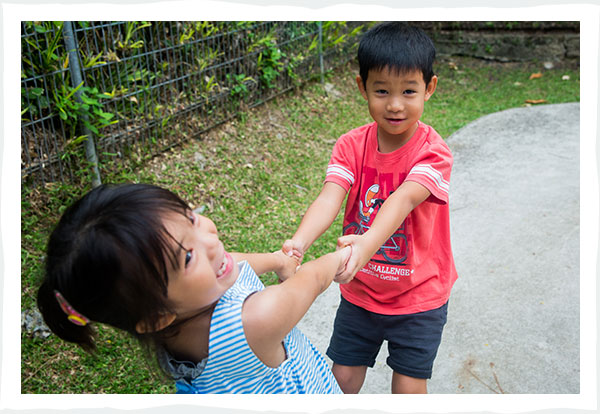 Heartfield was perfect for that with a well-rounded emphasis on sports, life skills, social abilities and academics.
Sports and Physical activity
My children always need a lot of physical activity in order to start focusing on their work and the playground , trampoline, pool , open spaces and afternoon Sportball enrichment programme helped to get their bodies ready for academic learning. Physical activity is now part and parcel of their lives with them doing gymnastics, skateboarding, swimming and tennis even into their primary school years and they have no fear of the outdoors and the sun!
An interest in cooking for Luke was fueled by the cooking sessions at Heartfield. He loves to help me bake even till now. Beth makes her own treats for her pet rabbits (cuts apples and carrots and dries them in the oven) rather than buying them from the pet shop. Independence, growth mindset , grit and perseverance are essential life skills I appreciated the teacher guiding the children with. Instead of fixing problems for the children, they encouraged them when the going got tough and guided them to overcome. It certainly was good that my children had time away in school to learn these skills when I was at work, rather than being home for the helper to do everything for them.
Both my kids stayed back after the morning sessions for "Lunch Bunch", a time the children get to socialize over lunch, and a very special time indeed. There was also time during the school curriculum for socializing. They made close friends in Heartfield whom they still play with even after having left preschool and I felt this was very precious in preparing them for the real world – making real friends in a new environment and also learning to be kind and genuine friends themselves.
Having a mix of local, expat and even the occasional special needs kids in the school was a perfect setting for my children to learn how to interact with people from different cultures, with different strengths and learning abilities, with no discrimination. Love and care was always subtly built into the curriculum.
Learning had always been a joy at Heartfield for them and they learnt Math, English, Chinese and Science in a way that was always exciting for them. Science was learnt from them rearing pets in the school as well as being out in nature. Their Chinese teacher was energetic and cheerful and there was never a hint of dislike for the language during their preschool days, a great foundation to set before they actually face the grueling demands of primary school.
Luke is strong in math and because of how the teachers know each child's strength individually, he was often given some extra math to challenge him (he loved it! And he still loves math)
Transitioning to Primary school
Beth had no issues transitioning to primary school, made good friends and could easily abide by the school requirements, even receiving an Edusave award in Primary 1.
Luke is less social by nature and needed more time to adjust to Primary 1, also because it was in the midst of the Covid-19 pandemic and the children had limited opportunities to socialize and play. Sherlyn was a gem and helped Luke get over this by staying back and allowing him to visit Heartfield after all the children had left the school grounds. She was his willing "penpal" and they communicated via snail mail to "keep in touch". I cannot be more thankful for the genuine love and care the teachers have for him despite him having left the school. This is again something so precious that is beyond a basic education.
If not for the pandemic, my children would be back at Heartfield more regularly to visit the teachers, and to jump on the huge trampoline that they so miss! And they never ever will forget the carefree and happy days they had at Heartfield.
Jacqueline Wee's story (Edith and Thea's mum)
I have two girls, now aged 9 and 11. They are currently enrolled in a local convent school.
Heartfield Kindergarten was the second preschool our elder daughter was enrolled in. She was an extremely reserved girl and didn't vocalize her feelings very well. We tried out the first preschool when she turned three but it did not work out well at all. We tried for nine months. We discussed with our pediatrician and he suggested moving her to Heartfield where he knew they used a different pedagogy which he thinks was what Edith exactly needed.
We visited Heartfield with Edith and the difference in the approach of learning immediately struck a chord with me. I say "approach in learning" instead of "approach in teaching" because I believe that effective learning has to come from within. And I strongly believe that a child learns when she/he feels safe, confident and stimulated. After speaking to Sherlyn, I felt she genuinely understood what every child needs.
I remembered Sherlyn telling me how we need to (I paraphrase) "trust the process" – that playing is not wasting time, is not taking steps backwards and that the child will not lag behind academically if they play more.
Three years on, I noticed how Edith has changed to become an empathetic, confident girl, unafraid of making mistakes, keen to interact with her teachers and most importantly, still curious and still motivated to continue to discover, (yes, she still continues to climb trees because there's always more to discover when the child directs play herself).
She's 11 now and she still preserves the fond memories she shared with her teachers, the endless activities she did together with her teachers, the countless playground scenarios that she learned resilience, how to resolve conflicts, negotiate, share and self-advocacy skills. This is when I realize my fears of her "lagging behind" when she started primary one were needless. She is an independent learner, an empathetic friend, she adapted and adapts quickly because of the confidence and inquisitivity that were instilled in her through her early childhood days.
Thank you Heartfield, we are truly grateful and keep doing what you have been doing.
My second daughter is 9 this year. She also grew up in "The Heartfield way". She shares with me fond memories of the sincere and engaging conversations with her teachers. What impressed me was how the teachers at Heartfield took the time to engage in meaningful conversations with every child.
We appreciate the inclusive environment at Heartfield. Thea shared several friendships with children with special needs. We appreciated how the teachers guided Thea and her classmates on how they can better understand and interact with children of different learning abilities. In a fast-paced country like Singapore, many may feel that their children may be short-changed helping and teaching other children. But I beg to differ. Understanding of any subject-matter is reinforced through teaching others. It is indeed heart-warming to learn that Thea continues to buddy a classmate, helping her in her work whenever she finishes her assignments in class. She was a buddy to the same classmate for 2 years and never found it a burden to help a classmate with special needs.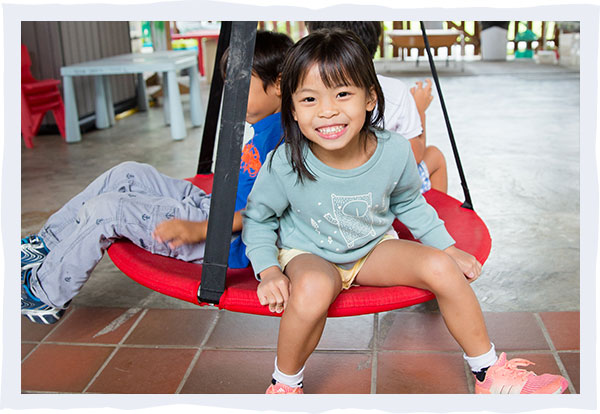 Upon graduation from Heartfield, Thea has matured to a big-hearted, selfless, patient and motivated girl, always giving her best not for the sake of it but for the joy of it. I'm truly thankful and grateful for the virtues Little Hands teachers have instilled in her – that one never gets poorer by giving.
Thea was awarded top leader in her level last year and also the ECHA. She was surprised as she had never expected to be awarded for something that she thinks she can help out with.
Angela's Sharing (Eva and Liam's mum)
To the Heartfield Team,
It is with a very heavy heart the Van den Haak family says goodbye to Heartfield. Ava and Liam (and Noah) have loved their time at Rockets, Astronauts and Launchers. They were excited about coming to school each day to see their much loved teachers and friends. The whole family has many fond memories of our time at Heartfield and we are so grateful for the amazing teachers and supportive community we have been lucky to be a part of these past years. Our children have not just learned so much, but they have really enjoyed how much for their teachers have made each day through exploration and curiosity – which is a credit to you all!!
We will miss everyone greatly! Thank You!
Love, Ava, Liam, Noah, Angela & Marc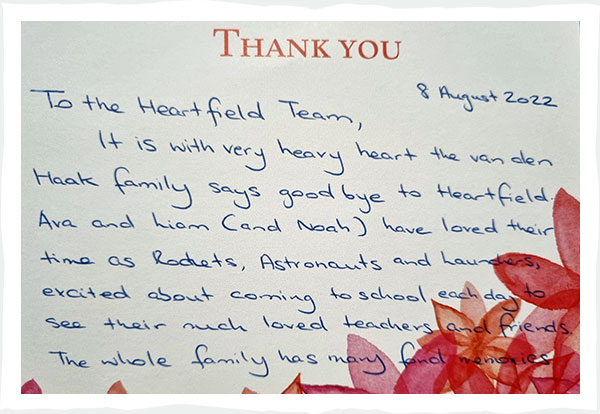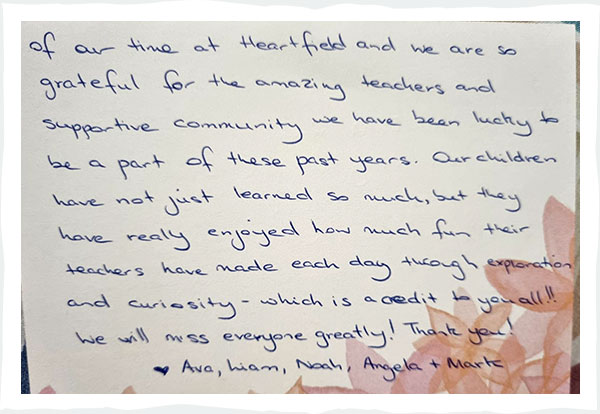 Isabelle and Jean-Louis's sharing
(Emilia and Mimi's parents)
We would like to take this opportunity to thank you, from the very bottom of our hearts, for looking after both our daughters with such kindness and patience whilst they have been at Heartfield. It has given them a wonderful space to grow and become independent. We really could not have wished for a better pre-school experience. Thank you for your hard work and dedication.
Mimi will miss her teachers and friends a great deal, and I know that her time at Heartfield has prepared her well for big school and the challenges which lie ahead.
With our very best wishes, and thanks to the whole Heartfield team.
Isabelle and Jean-Louis