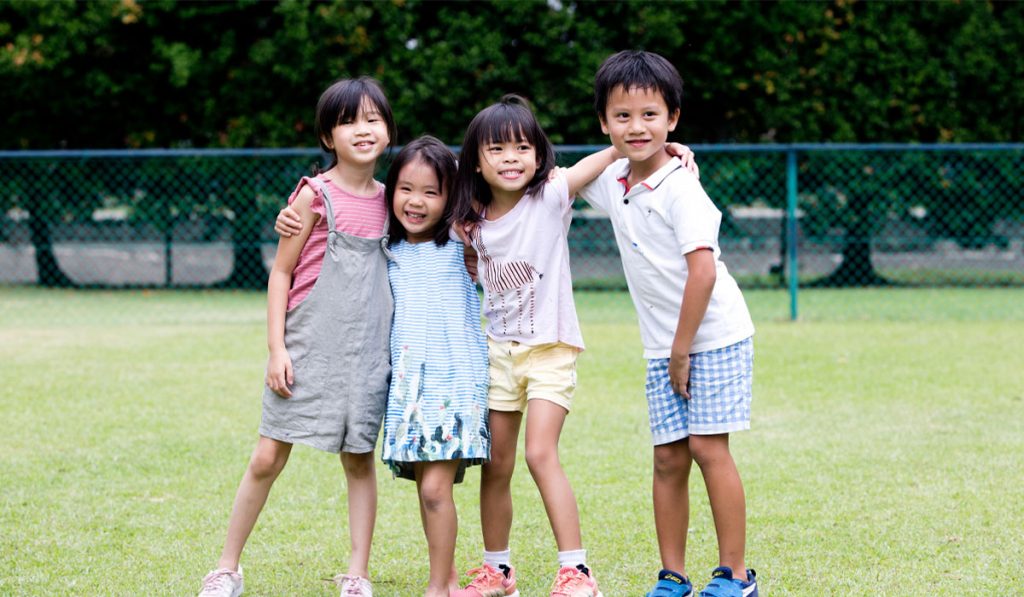 Are you looking for a suitable kindergarten for your child close to your home in the Newton neighbourhood? If so, this guide is for you!
Choosing the right kindergarten can be a challenging task for any young parent, considering the myriad of options out there. From location to spaces, curriculum to teaching methodology, and student-to-teacher ratio to classroom dynamics, there are multiple factors to think about when you are evaluating the best early educational option for your child.
In this article, we will handhold you through each of these pointers so that you'll be more assured and informed when selecting the right kindergarten in Newton to kickstart your child's education.
Types of Kindergartens in the Newton Area
First, let us look at the range of kindergartens and preschools available in your neighbourhood.
The Newton district, which extends from Novena to Bukit Timah, is well known for hosting some of the best primary, secondary and post-secondary schools in Singapore. There's a pretty impressive list to choose from—they include St. Joseph's Institution, Anglo-Chinese School (Barker Road), Methodist Girls' School, Singapore Chinese Girls' School, and Raffles Girls School, to name just a few.
But what if your little one hasn't embarked on that journey yet? What are the available choices for your child in the Newton area? Let's find out!
A quick zip over to the Early Childhood Development Agency website will bring you to a section where you can input a search into the Preschool Search Portal for preschools and kindergartens available in the Newton area. Our search brought up over 20 options. They include franchised preschools, international chains, non-profit run preschools, church-based kindergartens, as well as independent kindergartens.
Given the plethora of kindergarten and preschool choices, how do parents like you make the right decision?
What to Look For in a Newton Kindergarten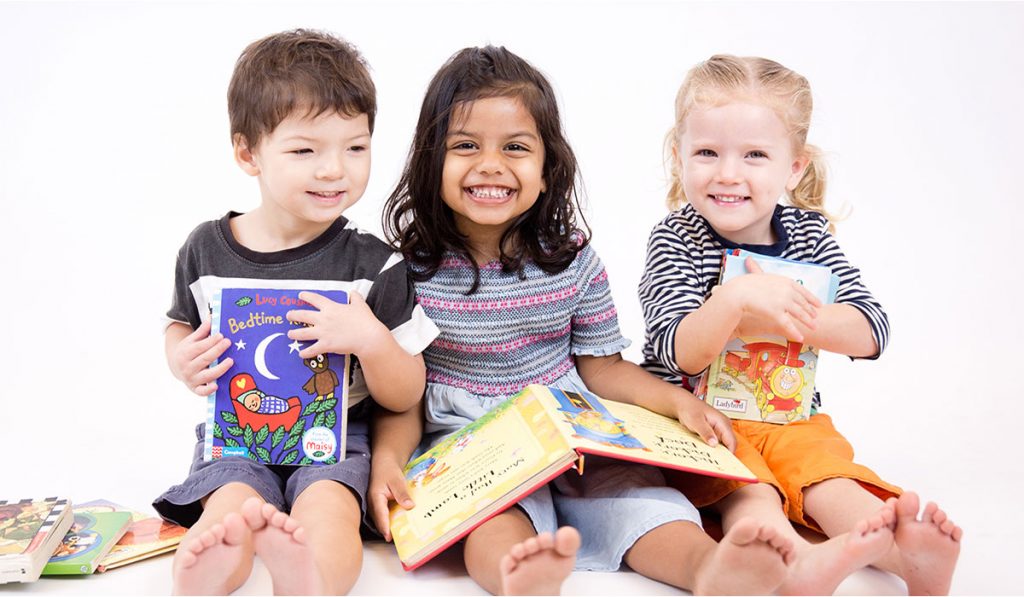 Prior to choosing the right kindergarten or preschool for your child, do take some time to ponder and reflect upon these factors.
#1 Kindergarten Curriculum
First and foremost, consider what the school teaches as well as the pedagogical (learning) approach that the educational institution adopts.
Typically, a good kindergarten should cover the following topics or areas:
Language skills—listening comprehension, spoken and written
Second language options
Art and creative skills
Math and science skills
Behavioural and social skills
Physical and motor skills (for example,sports and outdoor play)
Life lessons and moral values
#2 Learning Philosophy
Beyond the basic subjects, you should also consider the educational philosophy embraced by the school. Here's a quick rundown of those that feature most prominently:
Reggio Emilia: Ideas and freedom of expression are the mainstays of this curriculum, which originated from Italy and is built on project-based learning. Children are exposed to project-based activities through the atelier (creative space) and the atelierista (artistic teacher). This is geared towards maximising a child's emotional and intellectual potential through problem solving, expression and collaboration. A child's progress is more fluid as projects can take several weeks to reach fruition.
Montessori: Orderly placed chairs and desks are typically absent in a Montessori learning setting, but have no fear! This is encouraged to allow children to work independentlyto choose their own activities based on five core study areas: language, culture, practical life, and sensorial mathematics. Classrooms can occasionally have students of various ages and lots of hands-on learning is promoted with available tangible materials.
Waldorf: Experiential learning is the emphasis here, as well as a somewhat structured routine, with programmes adhering to consistent days and times for specific learning activities. This caters to the belief that the child "thrives in a rhythmical and predictable environment." Despite this, play and creativity override strict academics in a traditional classroom setting and students learn through these activities.
Faith-based: Normally operated by religious organisations, faith-based kindergartens typically mesh theological themes into their students' learning sessions. However, having a curriculum based on religious principles doesn't mean academia is neglected; teachers and students are welcome to have open conversations about their beliefs while practising their faith in a non-discriminatory environment.
Independent Child-directed: Independent founder-led kindergartens like Heartfield Kindergarten, usually adopt pedagogical approaches that embrace the best of all the different philosophies shared here. These institutions focus on holistic learning approaches that are centred on the child's unique learning needs and provide copious opportunities for the child's participation and collaboration. They may also integrate quiet and energetic activities that allow a child to learn through self exploration and discovery.
#3 Location, Location, Location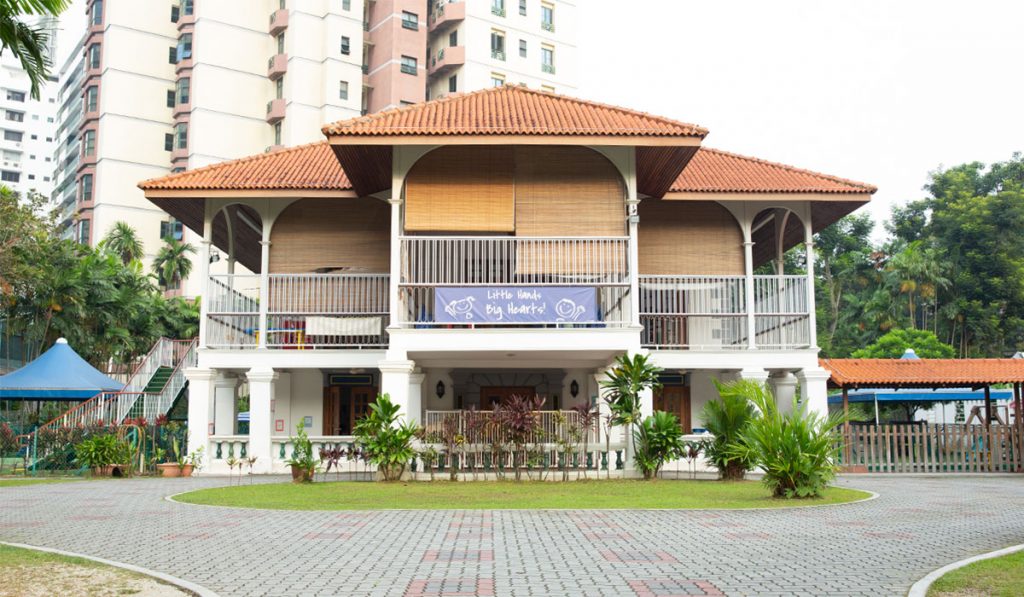 Next, you need to consider the specific location of the kindergarten, the neighbourhood that it's situated in, as well as its proximity to your home. This depends on whether you have access to your own private transport, as well as the ease in which caregivers can travel to and from the school.
Beyond distance alone, you need to also think about the immediate surroundings of the school. Is it quiet and conducive for learning? Are there suitable places nearby for field trips and exploration? What about access to nature and greenery?
#4 School Compound/Facilities
This can be a major factor in deciding on the right kindergarten for your child. Look out for open spaces that your child can run around and play in, patches of nature for experiential learning and exploration, as well as both wet and dry play areas.
#5 Student-to-Teacher Ratio
Consider the student-to-teacher ratio in the kindergarten and whether there are sufficient teachers and assistant teachers to facilitate learning and pay adequate attention to every child..
#6 Childcare Needs
Do you need the school to cater to your child's meals over a half-day or full-day duration? If so, you should consider those that specifically cater to those needs.
Should you have the option of working remotely or are a stay home parent, consider kindergartens that can accommodate shorter schooling hours so that you can still devote quality afterschool time with your child at home.
#7 Cultural Fit/Chemistry
Last, but certainly not least, you should pay a visit to the kindergarten that you've shortlisted to see how your child takes to the place. Watch how the school's teachers and principals engage and interact with your child. More importantly, consider if you are comfortable with the way they manage the children by observing them in action.
Why You Should Consider Heartfield Kindergarten in Newton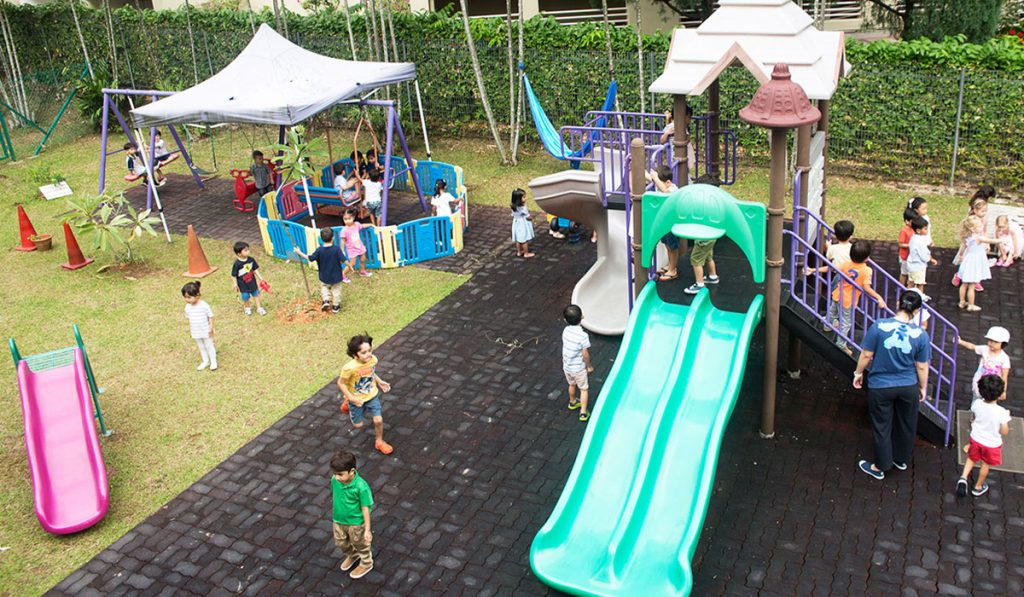 Have you ever taken a walkabout to Balmoral Road in the Newton district? Bukit Timah Road splits into two roads at Newton Circus: the first will take you along the western side to the heart of Bukit Timah, while the other will take you east-bound, towards Dunearn Road.
Make a deviation to the western route, and you'll be greeted with beautiful Tudor tropical-colonial-style villas that have withstood the test of time. Balmoral Road in particular, was named after Balmoral Castle, which was reportedly Queen Victoria's (1819-1901) favourite residence in Scotland.
Over at number 31 lies Heartfield Kindergarten, an unexpected find along a stretch filled with a colourful mix of residential developments. The surrounding expanse of idyllic greenery still remains from yesteryear, and it's exactly how we love it to be!
Step inside and allow us to walk you through our philosophy of an ideal kindergarten education, where we believe in an integrative approach of all the best methods to meet your child's needs. Heartfield Kindergarten is an independently operated school that caters to children from 18 months to 6 years old. We're distinctly different, not just in settings, but in our all-embracing approach to nurturing any child that enters into our family.
Being an autonomous school for young children, with a founder/principal and teaching team that truly understands the unique merits of every child, we are grounded with an over 25-year history built on principles that allow all of our students to thrive and strive to their fullest potential!
Our physical grounds allow your children to run free and partake in stimulating activities that encourage the appreciation of sport and nature. We also encourage multi-sensorial exploration and learning, tapping on all five senses—sight, smell, touch, hearing and taste..
That's not all. Our all-inclusive culture promotes interaction and friendships among peers and teachers alike. We believe soft skills development, such as empathy and effective interpersonal communication, are equally important in an independent, all-rounded, adjusted and confident child.
Heartfield is dedicated to providing a low teacher-to-child ratio that enables optimal learning. Being child-focussed, our team is equipped with the knowledge and experience to help every child learn and excel. Because we believe in strong parent partnerships, we also offer guidance on communication with families and encourage parental involvement throughout your child's learning journey with us.
Start Your Child's Education at Newton Today!
Heartfield loves being part of the multi-faceted Newton community. Remember that selecting a kindergarten for your precious child is a personal decision that boils down to what best suits the visual, auditory, physical styles and emotional needs of your child.
Understand the curriculum that each individual school offers and envision how your child will benefit from it holistically. At Heartfield, we remain dedicated to working with children and parents alike to ensure a well-rounded, nurturing relationship that continues even beyond our doors. We're excited to meet you and discuss the unique and individual needs of your child! Do get in touch with us at tel: +65 6835 2354, email: info@HeartfieldKindergarten.com or visit our contact page for details.